Welcome to the South Gloucestershire Beekeepers' Association
 Picture courtesy of Gazette Newspapers, Hugh Lewis and Joe Stott at The Berkeley Show Live Bee Demonstration
There has been a confirmed sighting of the Asian hornet in the Tetbury area of Gloucestershire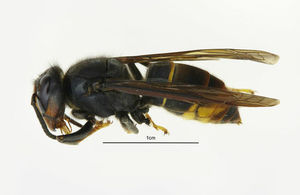 Photograph of the Asian hornet identified in Gloucestershire
The National Bee Unit has confirmed a sighting of the
Asian hornet in theTetbury area of Gloucestershire –
the first time the hornet has been discovered in the UK.
The Asian hornet is smaller than our native hornet and
poses no greater risk to human health than a bee.
However, they do pose a risk to honey bees.
Work to identify, destroy and remove any nests is
already underway, which includes:
setting up a 3 mile surveillance zone around Tetbury
opening a local control centre to coordinate the response
deploying bee inspectors across the area who will
use infrared cameras
and traps to locate any nests
readying nest disposal experts who will use
pesticides to kill the hornets
and destroy any nests
Nicola Spence, Defra Deputy Director for Plant and Bee Health, said:
We have been anticipating the arrival of the Asian hornet for some years

and have a well-established protocol in place to eradicate them and control

any potential spread.

It is important to remember they pose no greater risk to human

health than a bee,though we recognise the damage

they can cause to honey bee colonies.

That's why we are taking swift and robust action to

identify and destroy any nests.

We remain vigilant across the country, working

closely with the National Bee Unit and their

nationwide network of bee inspectors.
A local control centre will be opened tomorrow near
Tetbury and bee inspectors from around England
will be closely monitoring a three mile radius around the
initial sighting.
They will be supported by nest disposal experts who will
use an approved pesticide to destroy any hornets and
remove any nests.
The hornet found in Tetbury is currently undergoing
DNA testing at the National Bee Unit in North Yorkshire
to help establish how it arrived in the UK.
The hornet arrived in France in 2004 and is now
common across large areas of Europe.
It was discovered for the first time in Jersey
and Alderney this summer.
It is believed the species will not be able survive
in the north of the UK due to colder winters.
ENDS
Notes to Editor
For advice on what to do if you believe you have seen an Asian hornet

please go to the non-native species website

Anyone who believes they have found a nest should not go near it

and report it to alertnonnative@ceh.ac.uk

The cost of eradication on private land will be met by APHA

For details on the appearance of an Asian hornet please can be found
Check out the Articles Page, Latest Prices for your Equipment Supplies, Frames, Foundation etc.
Some items of hardware are also available Jeff Bee holds stock
Please Note that Varroa treatments have been removed from the list, due to a lack of demand it is no longer viable to keep stocks that are always in date.                                                                                 
 Timely Reminder To All Members
You should be maintaining a 'Veterinary Medicine Administration Record'
and
keeping it for 5 years
Download from Articles page and/or see FERA website for more details
NEWS: SGBKA WILL AGAIN BE RUNNING EVENING CLASSES FOR BEGINNERS and "IMPROVER" WORKSHOPS FOR MORE EXPERIENCED BEEKEEPERS DURING THE WINTER MONTHS of 2016/2017 - See ARTICLES page and MEETINGS for more details.
SGBKA  Bee Equipment Sales and Training Course details please click on Articles Link for more information
South Gloucestershire beekeepers are a welcoming group of beekeepers who share a common interest in the craft and long term future of beekeeping.
We have an all year round meeting schedule including indoor talks, education/training courses and lectures during the winter; beekeeping demonstrations at the club apiary and members' apiaries during the summer.
The meetings are lively and educational with lectures covering the basics for newcomers as well as a range of advanced topics including queen rearing for the more experienced beekeeper.
Our members come from all walks of life and all generations with new members always especially welcome
At our outdoor meetiings we will be working live bees so please make arrangements for protective clothing prior to your visit.
For membership information please contact  secretary@sgbka.org.uk .
Bees for Beginners
The association will make every effort to help and encourage members who are new or inexperienced,
particularly those who have completed a Basic Beekeeping course.  If nuclei bred at the branch
apiary are available for sale they will be given a high priority for their purchase.  We will provide a mentor
to assist them for the first 18 months and the opportunity to attend practical training sessions
at the apiary.
  
Members who are new to beekeeping may purchase all the hive equipment required to start
beekeeping from the branch apiary.  
If the beginner wishes to cease bee keeping within their first 18 months, the branch will buy back all the
re-usable equipment at 80% of the cost price. 

Please contact secretary@sgbka.org.uk for more information on this Scheme